Senate Bill 11 (SB 11), also known as "campus carry," permits handgun license holders to carry their weapons onto the campus and into the general buildings of public universities and colleges in Texas. Passed by the 84th Texas Legislature and signed into law by Gov. Greg Abbott, SB 11 took effect Aug. 1, 2016. As part of the law, the University was allowed to establish reasonable rules, regulations or other provisions regarding the carrying of concealed handguns, including campus locations where concealed carry is prohibited, subject to amendment by the UT System Board of Regents. The purpose of the UT Dallas policy is to comply with the law while maintaining the maximum safety and security of UT Dallas students, staff, faculty and guests.
Facts
A person must have a license to carry a concealed handgun on campus. Requirements include being at least 21 years of age and a legal resident of Texas for the six-month period preceding the date of application.
Concealed carry is prohibited in these buildings: Callier Center-Richardson (CR); Callier Richardson Addition (CRA). Natural Science and Engineering Research Laboratory (RL); Bioengineering and Sciences Building (BSB); University Commons Residence Halls (RHNW, RHN, RHS, RHSW, RHW); Dining Hall West (DHW); Recreation Center West (RCW); Callier Center-Dallas; the Center for BrainHealth; and the Center for Vital Longevity. (See map below).
Solely occupied offices can be designated as exclusion zones, prohibiting the concealed carry of a handgun in that space. If occupants choose to exercise this discretion, they must provide oral notice that concealed carry is prohibited in the office. The use of signage does not satisfy notification requirements.
License holders cannot carry concealed handguns at University sporting events, patient care facilities, including the Galerstein Gender Center, the Student Health Center and the Student Counseling Center, disciplinary hearing or mediation facilities, and areas where schoolchildren are present.
Open carry is not allowed. If the license holder carries a visible handgun, or if the handgun is intentionally displayed in plain view of another person, it is considered a criminal offense.
The University will not provide storage of a license holder's handgun.
Exclusion Zones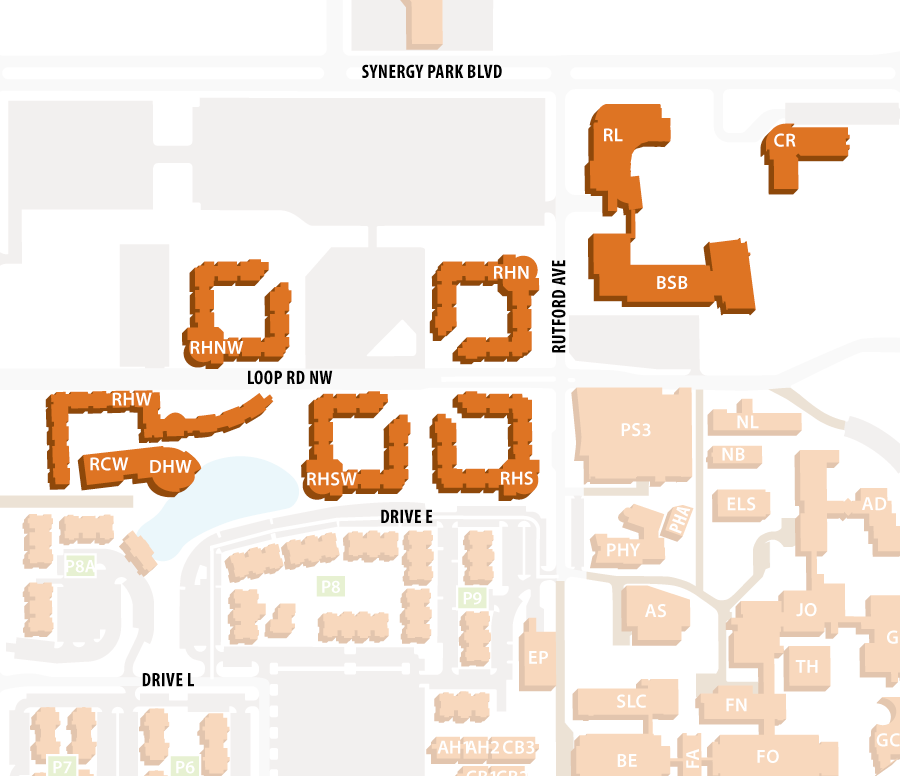 In accordance with SB 11, signs will be posted on entry points of buildings deemed exclusion zones, where concealed carry is prohibited. In addition to the Center for Vital Longevity, the entire facilities of the Center for BrainHealth and the Callier Center campus in Dallas, the highlighted buildings have been designated as exclusion zones.
Related Links